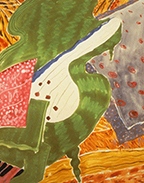 Art In America
Report From Boston by Sarah McFadden

Catherine Bertulli: The Green Piano, 1982, watercolor and crayons, 36 by 47 inches.
" Catherine Bertulli, who makes beguilingly flimsy foam-core contructions, stands out as something of a maverick. Her saturated colors and densely packed forms conjure up Matisse and Nolde. Like her work in other mediums, the watercolors are witty, yet come straight from the heart."